Commands are actions you can run to push, pull, and adjust your data. You can do things like get product data from your ecom account, check products for matching product data, push data to your website, etc.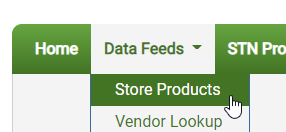 You may need to allow your Store Products data to load. Depending on data size, it may take up to 30 seconds or so for initial load.
You can run commands by selecting the desired command then clicking the Run Command button.
What does each Command do?